The smart label printer – designed with your kitchen in mind
Ready to flawlessly label food in large batches? Meet our SATO professional label printer – your ticket to efficient labelling. This stand-alone printer prints HACCP labels with all the right details, saving kitchen staff time and effort.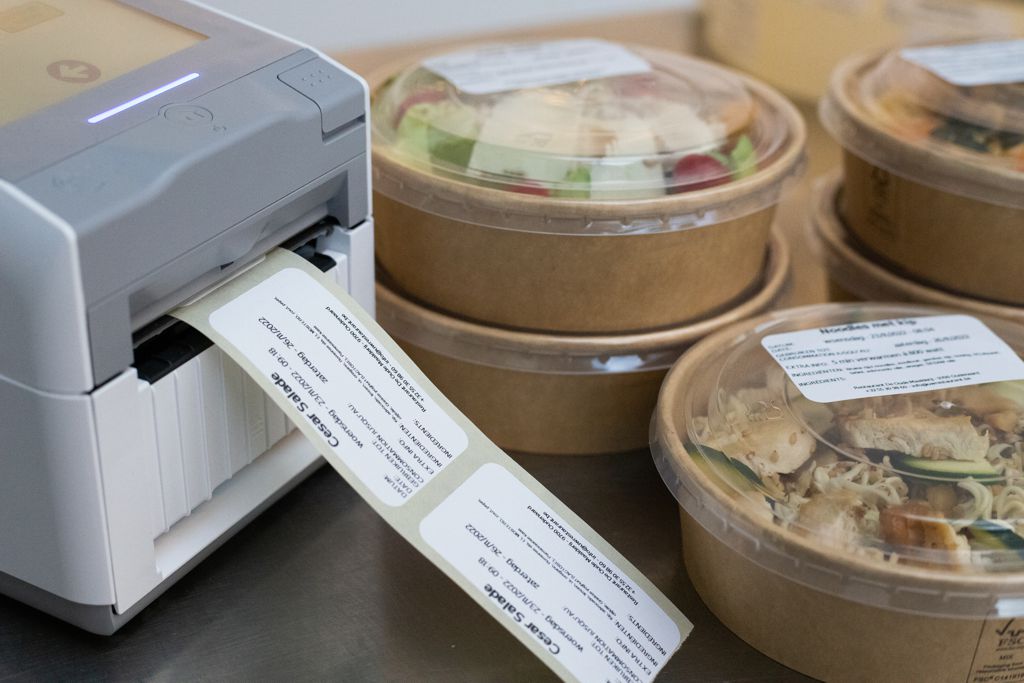 The SATO professional label printer
At LabelFresh, we know that sometimes only a bespoke job will do. So, in addition to our standardised food labels, we provide you with a customised labelling solution. Kitchen staff can easily select the correct dish on the SATO professional label printer's screen. Next, the label printer prints the product information and date on one or more labels, instantly ready for use. The printer's intuitive app makes uploading product details to the printer a straightforward and simple affair.
The SATO label printer relies on direct thermal technology. By using heat instead of ink, this printer is hygienic and safe for kitchen use. That's an instant win for your kitchen.
Labels on demand: 4 label types in 2 sizes
The SATO professional label printer enables hospitality businesses to print four types of labels: standard HACCP labels, frozen food labels, dissolvable labels, and takeaway labels. Separate labels are yesterday's news. Just upload a description of each dish with the required facts, select your label type, and print! Need a different label type? Replace the printer roll with the type you need. It's as easy as that. Staff only need to select the correct description to print accurate HACCP labels efficiently and in bulk. The professional label printer prints in two sizes: 25 mm x 40 mm and 40 mm x 70 mm.
The SATO professional label printer: only advantages
Compact design and hygiene – these key SATO label printer features distinguish it as the perfect professional kitchen labelling solution. Anyone can learn to use it. You're good to go in just a few minutes. And that means catering establishments pass food inspection with flying colours – every time.
smart printer, operates autonomously on stored (uploaded) data
no PC required
easy data upload with the app
intuitive touchscreen, responds to gloved instructions
antibacterial housing, i.e. ideal for hygienic environments
splashproof
wall-mountable, i.e. a space saver
Standard HACCP labels
Don't need a professional label printer? Hospitality businesses are still spoilt for choice with our handwritten labels. For that matter, even professional kitchens that do use a printer need handwritten labels from time to time, e.g. for special seasonal products and meals. And that's precisely why we offer a range of food labelling solutions: HACCP food labels, frozen food labels, dissolvable labels, allergen labels and quality-control labels.
Find a dealer near you
Could your catering establishment use a professional label printer? Find a dealer near you now and start smart labelling!